This post is prompted by a heated discussion that occured on Singing Pig recently. Rich Greenland posed the question "Where are all the good deal sourcers?" and it generated a very healthy discussion which threw up this comment:
"The biggest problem with the property market, and why it is so attractive to people, is the barriers to entry are relatively small. i.e. with a small amount of start up capital you can begin finding properties, then sourcing, selling etc. This has resulted in a whole host of people being involved in the property market, some of which are ethical and responsible, some of which see it as the quickest way of getting rich in anyway possible".
But which property "industry" or "market" was being referred to here?  You see, my wife Vanessa and I are in the property industry as a full time professional investor/Landlords and it bears no relation to the above.
Let's be clear.  The property industry referred to here is the "property marketeers" industry i.e. other people offering "get rich quick" schemes, NMD deals, armchair investment schemes, and teaching others how to get wealthy, rarely actually doing it themselves.  As noted, there are low/no barriers to entry. I recently came across someone who was a student on one of these courses six months ago. The person in question has not managed to buy any property themselves, but they are now offering mentoring!  If the "system" worked, surely they would be busy buying property?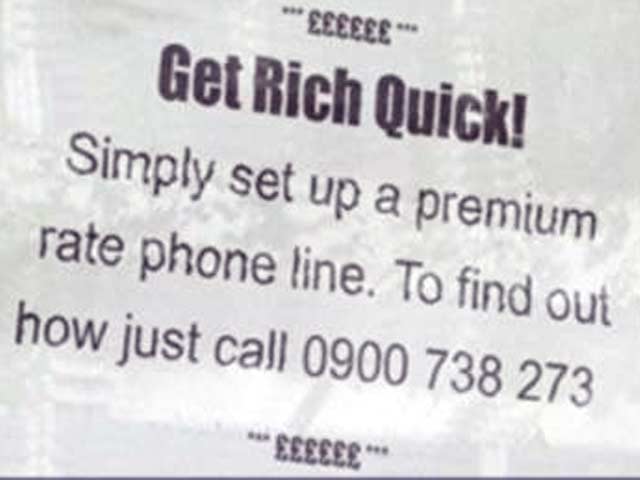 To clarify something: there was a window of opportunity up to April 2008 to structure legitimate/transparent "no money down"  deals.  I took advantage myself!  However, that window of opportunity was slammed shut when Mortgage Express withdrew the same day bridging/remortgage product.
Unfortunately, many property sourcing companies are living in 2007 and still telling people you can structure deals in this "no deposit required" format. An example is Gekko. In reality, they were unable to pull off any such NMD deals and the whole thing unravelled very quickly when they sold new build properties via a third party without doing enough due diligence. In their case, the reservation fees should have been refunded, but the money had already been spent, as is the case with Passive Investments.
I am not suggesting that there are companies offering to teach a "get rich quick" business model for selling deals. What I am alluding to is those people who go on "get rich quick" training seminars end up finding that they can't actually implement the strategies they were taught, and bring any deals to fruition using these methods, so they then end up selling the dream on to someone else. It's actually a bit like an MLM scheme if you think about it, because many of them get affiliate commissions for referring unsuspecting newbies into the scheme that they got sucked into themselves!!
If you really had a deal that was No Money Down, and £20K cash-back, why would you sell it for a few £K intro fee. Wouldn't you keep it for yourself?  If you really have what amounts to the six numbers to the lottery, why would you sell them for a few thousand pounds intro fee?  If you think about it, it just doesn't add up.
If it sounds too good to be true, it is, every time. Without fail.
Whilst I am all for education as you can never learn less, many of these courses teach the theory not the practical.  Without wishing to squash anyone's dreams of a better financial future, there must also be room for a reality check.
In the property industry I am in, the real world, not marketing/sales hype and dreams of get rich quick, there are HUGE barriers to entry, namely a 25% deposit, stamp duty, legal fees, services charges, management fees, all sorts of legislation to comply with, money for repairs, furniture, blinds, maintenance – the list goes on. Not only that, you need a minimum salary of £25K, a squeaky clean credit rating, three year's audited accounts (if you are self-employed) to even get on the short list for lending/finance.
It is often mentioned that it is investors who demand low/no deposits. Of course they do! But that does not make it legitimate, nor does it make for a long term sustainable business to supply a demand that is based on unsustainable practices. Also, just because you do not know of anyone who has been prosecuted for fraud does not mean it is not happening. It is. From buy to let to mortgage fraud. And this, Mortgage fraud in the headlines , which was posted by a broker which lists a number of cases.
But we can all agree that it is going to take a lot more effort to find clients with big deposits, than it is to offer "money for nothing and your properties for free" to quote one of the greatest exponents of armchair investing, Andy Shaw whose company "Passive Investments" recently went bust taking millions of pounds of clients money with it. I must say it certainly worked for Andy Shaw, but not for his unfortunate clients!
.
So which property industry are you in? The "head in the clouds" one, or the real world?!
To conclude, myself and Vanessa are in the business of providing a great service to our valued clients (tenants).
Join the discussion on this topic at the Property Tribes forum >>>> here.  We now have over 600 members and growing daily.  It's a great place to hang out, network, share knowledge and opinion, and keep up to date with the latest property news and views for anyone who is serious about property investment and Landlord-ship.